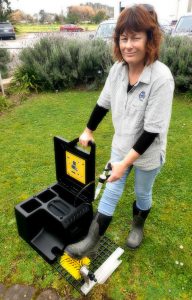 Congratulations to the First Fresh team in Gisborne, winners of a Jacson Cube® in our recent competition giveaway at the Horticulture NZ 2019 conference.
The Cube will be used by the crop monitoring team as they travel around the Gisborne district, monitoring citrus crops for First Fresh.
Here's First Fresh's Janine Westend trying out the Cube for the first time (well posing for a lovely photo) . Just add some water and disinfectant Janine and those boots will come up clean as a whistle, but more importantly you'll be minimising the risk that you're carrying around any unwanted weeds, seeds or diseases on your footwear.
Fun fact – the horticulture industry in Aotearoa is growing fast – it's on track to be a $10 billion industry by 2020!