The Jacson Cube® is an award winning, standalone biosecurity system that includes everything you need to safely, easily and effectively clean and disinfect your footwear.
It's been designed to help you and your team prevent the spread of disease, pests and weeds within and between farms, orchards, vineyards and workplaces, and is perfect for:
rural professionals and contractors who regularly visit multiple landowners
farmers and growers needing point-of-entry or secondary site solutions (e.g for property entrances, field days, grazing blocks, stock yards, or orchards and vineyards)
poultry and pig farmers to complement existing entry protocols and decontamination units.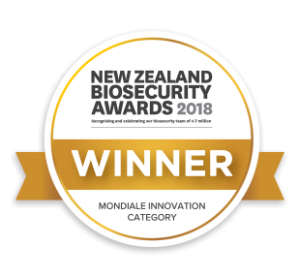 This compact, all-in-one footwear hygiene station offers great flexibility and convenience.
Supports multiple clean and disinfect biosecurity protocols
Supports the use of two different disinfectants or a disinfectant and a detergent for those hard to kill bugs
Replaces messy buckets and brushes.
Easily and safely cleans the soles of footwear.
Lightweight and sturdy.
Capable of 10+ farm/orchard visits before requiring a refill.
"In terms of both value for money and ease of use, we give the Jacson Cube® a 5 out of 5. We really like the fact that it makes visitors and suppliers to our farm stop and think about our biosecurity before they enter our property. The Jacson Cube® makes it really clear that they have to clean and disinfect their footwear before they enter. We have recommended the Jacson Cube® to others." Michele Clarke, Director, Taha Awa Farm
"The Jacson Cube has been an amazing addition to our biosecurity system, making it convenient and easy to clean boots for staff, contractors and visitors. It is light and compact which makes it easy to move around to where it is needed. It will make calving and mating a lot easier, as we don't have to worry about fish bins that are not half as sturdy or convenient to use. The multiple compartments and storage of different disinfectants has put our mind at ease for various reasons. In times like these it is so important to have a good footwear cleaning in place. We love the Jacson Cube! Thank you so much!" Annika Lowe, Farmer and AI Technician, Rangiora
Call us today on (07) 846 0575 to secure your Jacson Cube®.
Key features
Hard wearing, long-lasting polypropylene body and lid.
Self-cleaning rotating foot brush with integrated water supply.
Integrated handle grip for user stability.
3L reservoir for disinfectant or water.
13mm clip-on hose connector and ball valve tap to control water flow when a water source is available.
Adjustable power spray applicator to move larger debris and apply disinfectant.
Sturdy but lightweight rhino-plastic grate for unit stability.
Tough aluminium axle.
Hand brush for extra cleaning where required.
Draining and non-draining compartments for storing hygiene supplies and ensuring the hand brush remains immersed in disinfectant.
Dual purpose tray for car boot protection and disinfection foot bath.
Dimensions LxWxH: 560x540x372mm  |  Weight: 10.5 kgs – without liquid.
Extra accessories that can be purchased include: Signage and Disinfection mat.
No assembly required!
New Zealand Design No. 424042
New Zealand Patent App. No. 739451
Australian Design Application No. 201814168
European Design No. 005508900-0001
Using your Jacson Cube®
Clean boots and footwear are no longer optional when visiting farms, orchards and nurseries. We all need to take responsibility for minimising the risk of transferring diseases, pests, seeds and weeds. The Jacson Cube® comes with everything you need to quickly, easily and effectively clean and disinfect your footwear – both before you enter and when you leave the farm, orchard, nursery or workplace.  All you need to do is follow your footwear cleaning protocol, and add water and disinfectant of your choice.
Mobile or permanently located
Your Jacson Cube® is designed to be an easy-to-use, all-in-one portable solution for effective footwear cleaning and disinfection for rural professionals and others visiting farms and orchards. It can also be used by farmers and horticulturalists at field days, extension workshops, run-offs and at the entrance to orchards and sheds.
Fast, easy and safe to use
Taking less than one minute to set up and use on arrival and two minutes on departure, the Jacson Cube® wastes no time getting the job done. The built-in lid handle and foot grate both support good health and safety practice by providing stability during use.
No more messy buckets and brushes
The innovative rotating brush design pulls out from the Cube to keep dirt away from the unit.  Using pressure from your foot the brush moves around for ease of use and longer life. Simply connect to a hose using the 13mm clip-on hose connector (included). Water is directed upward into the brush, cascading over and under the boot for a thorough clean. The conveniently located tap controls water flow at the unit.
No water supply? No worries
When there's no connected water supply available, the 3 litre reservoir supplies the fluid needed to clean your boots and footwear. Simply use the power spray applicator to sluice off debris and seeds and then use the supplied hand brush to finish your cleaning, which can be stowed in disinfectant in the non-draining storage compartment. Use the power spray applicator to finish the protocol, sluicing off any final dirt residue, and leaving your footwear covered in disinfectant.
Superior power spray applicator for full, even coverage
The power spray applicator draws liquid from the 3 litre reservoir and applies disinfectant in a flat, concentrated fan pattern, providing even, broad coverage with minimum effort.  For a cost-effective application, four sprays per foot (1 on top, 1 each side and 1 on the bottom) should give complete coverage. The high pressure spray also complements the two-brush cleaning system by sluicing off debris and seed from your footwear. It can also be used to give your unit an all-over clean after use.
Multiple configurations and spare parts available
We've thought of some extras you might like to consider, a disinfection mat that fits your car boot tray, and signage instructing people to clean their boots and footwear before entering your property.