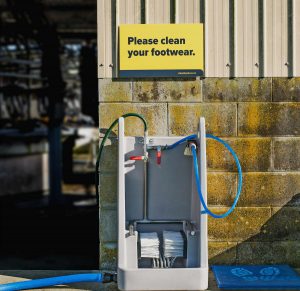 This German-engineered Boot Cleaner combines biosecurity risk management with the health and safety of your team and visitors.
Looking right at home at your shed, farm entry, orchard or vineyard, simply connect to your water supply, and insist that all footwear that comes on and leaves your land is cleaned and disinfected, all in a safe, tidy and professional manner.
• Thoroughly and quickly cleans boots.
• Minimises the risk of slips, trips and falls.
• No more messy buckets and brushes.
• Optional extras – disinfection mat and tray combo.
• NEW – inline disinfectant dispenser now available as an optional extra.
Call us today on (07) 846 0575 to get your PE Boot Cleaner.
Using your PE Boot Cleaner
With a design that puts health and safety first, there's less risk of slips or falls. Simply grab onto the handles, turn on the easy to reach tap and run your boots through the long-bristled cleaning brushes. Please note, Biosecurity NZ recommends both cleaning and disinfecting footwear as disinfectants don't work through dirt. Jacson3 recommends the use of either a DEMA inline disinfectant dispenser or a disinfection footbath alongside the PE Bootcleaner to ensure good biosecurity practice.
The PE Boot Cleaner should be positioned against a wall or fence and on a level, non-slip surface – preferably close to your water supply to minimise the risk of slips, trips and falls from your hose, and in a position where wastewater can flow from the unit to a drainage area.
Connection to your hose is achieved with the 13-15mm hose barb with a hose clamp (not supplied).
The soles and sides of your boots can be cleaned using the three fixed brushes.
The attached and flow-adjustable hand brush can also be used to clean the boot legs.
Control water flow to all brushes with the easy to reach, high quality taps located at the top of the boot cleaner.
Water flow to the hand brush can be further adjusted by turning the orange ring on the brush itself. After use, the hand brush can be hung up in its cradle.
Water is applied to the fixed brushes at an angle from above, through holes on each side of the water pipes.  Not only does this help with cleaning your footwear it also washes debris from the brushes themselves.
Wastewater is discharged on the bottom left through the 40mm threaded outlet (wastewater hose not supplied).
Key features
Dimensions LxWxH: 52x47x90 cm
Weight: 15 kgs
Comes with (no assembly required):
High quality, UV stabilised polyethylene plastic shell
13-15mm barbed hose connection
40mm threaded outlet for wastewater
3 fixed brushes (replaceable)
1 adjustable hand brush with hose
stainless steel water lines
2 high quality ball valve taps
integrated hand grip.
Extra accessories and spare parts that can be purchased include:
Inline disinfectant dispenser
Disinfection tray and mat combo
Replacement brush set